The Telecommunications Engineering Program is interdisciplinary program which blends the areas of Electrical Engineering, Computer Science, Management, Economics &Policy, in addition to Science & Mathematics as the foundation of engineering.
Students in this program are given an opportunity to learn and extend their abilities in analyzing and solving problems of telecommunications engineering. They are also prepared to be capable in designing new implementations of technology in order to serve today's needs of society. The program provides students with an integrated educational experience directed towards the comprehension in applying knowledge and techniques, as well as improving their ability in identifying and finding effective and efficient solutions for practical problems in telecommunications engineering.
This program ensures that the student's ability and experience in design and analysis can be achieved by providing them with a sequential and integrated course works and laboratories descripted throughout the curriculum.
Program Educational Objectives
Graduates of Telecommunication Engineering Program will have the following objective of achievements:
Our graduates will have successful careers as professional engineers.
Our graduates are capable of successfully completing graduate studies or engaging in professional development activities in their careers
Our graduates will have leadership in facing ever-changing, fast-growing and competitive market and industry.
Student Outcomes
(a) An ability to apply knowledge of mathematics, science, and engineering
(b) An ability to design and conduct experiments, as well as to analyze and interpret data
(c) An ability to design a system, component, or process to meet desired needs within realistic constraints such as economic, environmental, social, political, ethical, health and safety, manufacturability, and sustainability
(d) An ability to function on multi-disciplinary teams
(e) An ability to identify, formulate, and solve engineering problems
(f) An understanding of professional and ethical responsibility
(g) An ability to communicate effectively
(h) The broad education necessary to understand the impact of engineering solutions in a global, economic, environmental, and societal context
(i) A recognition of the need for, and an ability to engage in life-long learning
(j) A knowledge of contemporary issues
(k) An ability to use the techniques, skills, and modern engineering tools necessary for engineering practice.
Career Prospects
Graduates of Telecommunications Engineering Program will have broad career prospects because their competency is required by various national and multinational sectors. They include telecommunication operators and vendors; satellite communications industries; radio, television, broadcasting, multimedia industries; radar and navigation industries; banking industries and financial institutions; oil and mining industries; research and education institutions; government bodies; academic profession and research institutions; entrepreneur and consulting/ contractor companies; creative industries; airline and aircraft industries, armed forces and maritime; electrical power industries; internet service providers; etc.
Enrollment and Graduation Data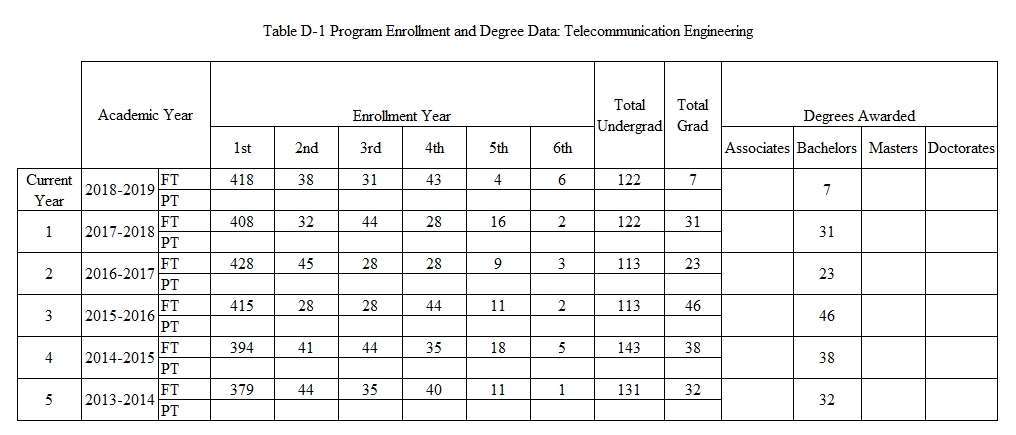 FT = Full Time
PT = Part Time
Total Undergrad = Number of students enrolled to ET program at 2nd-6th year.
At the first year in ITB, all students are enrolled to the designated Faculty / School. Therefore, the number of student at the first year is common to all six undergraduate programs within The School of Electrical Engineering and Informatics (SEEI), i.e. BS in Electrical Power Engineering, BS in Telecommunication Engineering, BS in Electrical Engineering, BS in Informatics/Computer Science, BS in Information System and Technology, and BS in Biomedical Engineering.
At the end of the second semesters, all students are distributed into these programs. The distribution is based on, in the priority order,
(a) student's interest,
(b) consistency of student's choice
(c) priority of student's choice,
(d) program's allocated place,
(e) GPA (in case of the number of interested students exceed the allocated place)