Overview
MikroTik Academy Program  is a training program specialized for students and academicians in educational institutions to familiarize with networking concepts and enhance their skills in MikroTik devices, one of the widely known players in networking devices.
MikroTik certification track
MikroTik certification consists of 5 different tracks, each specialized on different aspects of networking. Before taking the specialized track, one must complete the training and successfully passed the MikroTik Certified Network Associate (MTCNA). The certificate is valid for 3 years.
Currently, only one advanced track is provided by MikroTik, which is the MikroTik Certified Inter-networking Engineer (MTCINE), as shown on the figure below.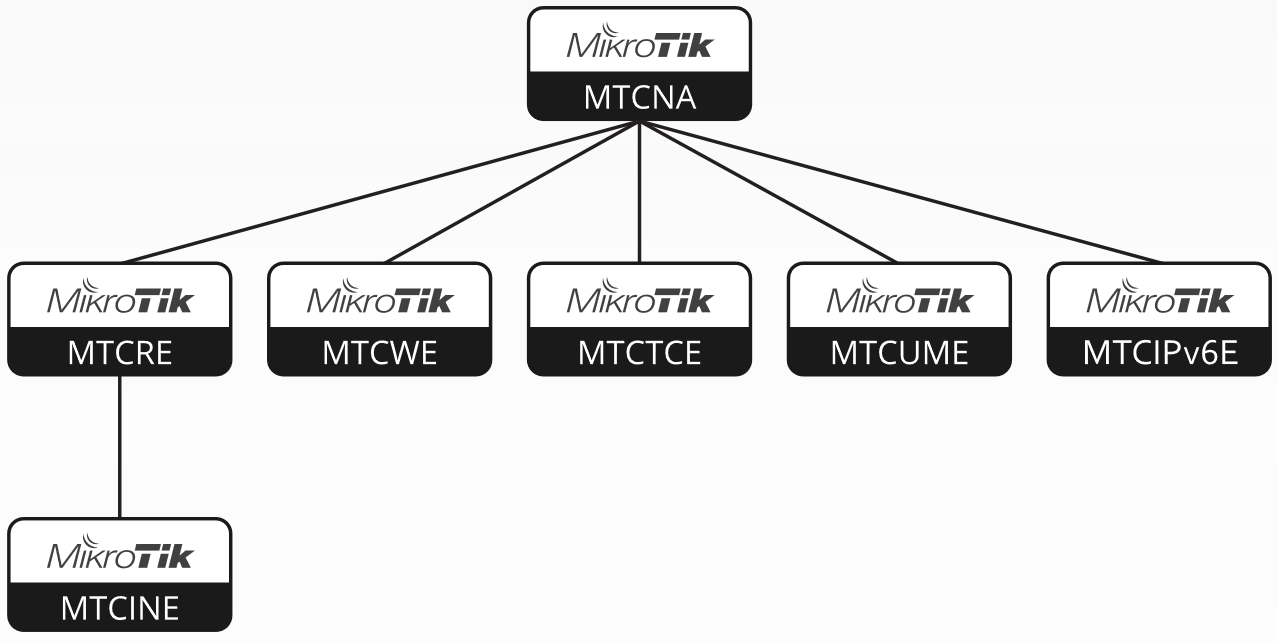 MTCNA – MikroTik Certified Network Associate
MTCRE – MikroTik Certified Routing Engineer
MTCWE – MikroTik Certified Wireless Engineer
MTCTCE – MikroTik Certified Traffic Control Engineer
MTCUME – MikroTik Certified User Management Engineer
MTCIPv6E – MikroTik Certified IPv6 Engineer
MTCINE – MikroTik Certified Inter-networking Engineer
What we offer
Telematics Lab of Institut Teknologi Bandung offers MikroTik Certified Network Associate (MTCNA) training, the entry level in the MikroTik certification. This training contains the basic skills in networking and MikroTik devices. This training revisits the basic concepts of networking such as Routing, Wireless Networking, DHCP and NAT, Quality of Service and Tunneling, as well as their basic implementations and configurations in the RouterBOARD and RouterOS, the core software of MikroTik.
This course comprises 9 modules that will be delivered in a 3-days session. The syllabus of the course can be found here 
Requirement
Basic understanding of TCP/IP Protocol Suite is essential for students to be able to follow the course.
For further inquiries, please contact Rifqy (085624206243)
Contact Us / Address
Telematics Laboratory
Labtek VIII (Achmad Bakrie Building), 4th floor