The Electrical Power Engineering Program provides education on the area of electrical energy generation, delivery, and its application.
Within the program, students will gain the knowledge of electrical power engineering principles along with the required supporting knowledge of mathematics, science, computing, and engineering fundamentals. The students will also develop their abilities to formulate, analyze, and solve complex problem as well as to design a product or system based on real problems, especially in the field of electrical power engineering. Therefore, they will have sufficient breadth-and-depth knowledge for successful subsequent graduate and post-graduate study, or other lifelong learning opportunities.
The program also facilitates active roles in developing electrical power engineering and other related industries. It also embraces the broad spectrum of issues arising in professional world, including teamwork, leadership, safety, ethics, service, economy, environmental awareness, and professional organization.
Program Educational Objectives
Program Educational Objectives of the EPE Program are as following.
Our graduates will have successful careers in his/her profession, especially in the field of electrical power engineering
Our graduates are capable of pursuing higher education or professional development
Our graduates have active leadership and become pioneer for serving his/her community
Student Outcomes
(a) an ability to apply knowledge of mathematics, science, and engineering
(b) an ability to design and conduct experiments, as well as to analyze and interpret data
(c) an ability to design a system, component, or process to meet desired needs within realistic constraints such as economic, environmental, social, political, ethical, health and safety, manufacturability, and sustainability
(d) an ability to function on multi-disciplinary teams
(e) an ability to identify, formulate, and solve engineering problems
(f) an understanding of professional and ethical responsibility
(g) an ability to communicate effectively
(h) the broad education necessary to understand the impact of engineering solutions in a global, economic, environmental, and societal context
(i) a recognition of the need for, and an ability to engage in life-long learning
(j) a knowledge of contemporary issues
(k) an ability to use the techniques, skills, and modern engineering tools necessary for engineering practice
Career Prospects
The graduates of Electrical Power Engineering Study Program will have opportunities to develop their professional careers as power system planning engineers, power generation and power system operation and maintenance engineers, electricity utility managements, design engineers, marketing engineers, power engineering and related fields researchers or power engineering educators and trainers in various institutions and companies.
These institutions/companies include: Electricity utility (PT PLN (Persero) and overseas electricity utilities), power generation companies, power transmission companies, power distribution and retail companies, electricity market authority (government body), industries having electricity network such as: government own and private petroleum and mining industries, electrical equipment industries, appliances industries, consultancy services, power contractors, research and development institutions, higher education institutions and training providers, other related industries and institutions.
Enrollment and Graduation Data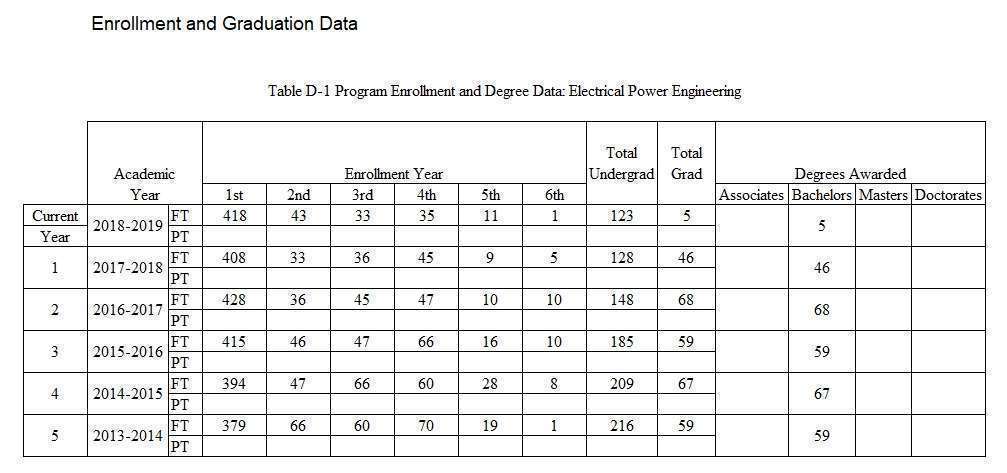 FT = Full Time
PT = Part Time
Total Undergrad = Number of students enrolled to EPE program at 2nd-6th year.
At the first year in ITB, all students are enrolled to the designated Faculty / School. Therefore, the number of student at the first year is common to all six undergraduate programs within The School of Electrical Engineering and Informatics (SEEI), i.e. BS in Electrical Power Engineering, BS in Telecommunication Engineering, BS in Electrical Engineering, BS in Informatics/Computer Science, BS in Information System and Technology, and BS in Biomedical Engineering.
At the end of the second semesters, all students are distributed into these programs. The distribution is based on, in the priority order,
(a) student's interest,
(b) consistency of student's choice
(c) priority of student's choice,
(d) program's allocated place,
(e) GPA (in case of the number of interested students exceed the allocated place)